林毅志-移植外科主任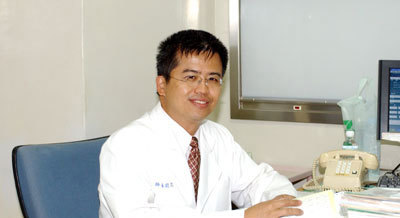 姓名: 林毅志 醫師
主要學歷
| | | |
| --- | --- | --- |
| 畢業學校 | 科系所 | 學位 |
| 高雄醫學院 | 醫學系 | 學士 |
| 成大醫學院 | 臨床醫學研究所 | |
現職
| | | |
| --- | --- | --- |
| 服務機關 | 服務部門 | 職稱 |
| 國立成功大學附設醫院 | 移植外科 | 科主任 |
| 國立成功大學附設醫院 | 外科部 | 主治醫師 |
經歷
| | | |
| --- | --- | --- |
| 服務機關 | 服務部門 | 職稱 |
| 國立成功大學附設醫院 | 外科部 | 總醫師 |
| 國立成功大學附設醫院 | 外科部 | 住院醫師 |
| 美國匹茲堡大學 | 移植中心 | 肝臟移植研究員 |
專長
Professional Membership:
中華民國外科醫學會
中華民國消化系外科醫學會
台灣醫學會
中華民國移植醫學學會
中華民國內視鏡外科醫學會
學術成大
學術論文
Po-Chang Lee, Chung-Jye Hung, Yih-Jyh Lin, Jen-Ren Wang, Ming-shiou Jan, and Huan-Yao Lei. A role for chronic parvovirus B19 infection in renal transplant recipients. Transplantation 2002;73(10):1635-1639 (SCI)

Po-Chang Lee, Yu-Chuan Tsai, Chung-Jye Hung, Yih-Jyh Lin, Huan-Yao Lei, Jih-Ing Chuang, and Kuei-Sen Hsu. Induction of antinociception and increased Met-enkephalin plasma levels by cyclosporine and morphine in rats: implications on combined use of cyclosporine and morphine and acute posttransplant neuropsychosis. J Surg Res 2002;106:1-6. (SCI)

Lee JC, Lin YJ, Chow NH, Wang ST. Reappraisal of the role of NM23-H1 in colorectal cancers. Journal of Surgical Oncology 2001; 30:1-5

Lin PW, Lin YJ. Prospective randomized comparison between pylorus preserving and standard pancreaticoduodenectomy. Br J Surg 1999; 86(5): 603-607

Lee PC, Wang YW, Su IJ, Lin YJ, Lei HY. Immunosuppressive drugs and HHV-8 in a patient with renal transplant and Kaposi's sarcoma. Lancet 1998; 351(9110): 1175-6

Lee PC, Lin YJ, Yao BL, Tsai HM. Acute pseudorejection-intermittent dextrorotation of the uterus causing graft compression. Nephrology, Dialysis & Transplantation 1997; 13(4): 1016-7.

Lee JC, Wang ST, Lai MD, Lin YJ, Yang HB. K-ras gene mutation is a useful predictor of the survival of early stage colorectal cancers. Anticancer research 1996; 16(6B) 3839-44.